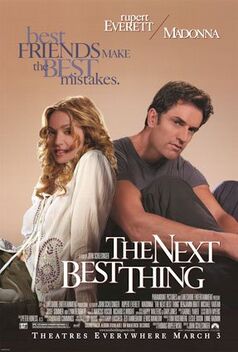 The Next Best Thing is a 2000 American comedy-drama film, the final film directed by John Schlesinger. It stars Madonna, Rupert Everett, and Benjamin Bratt. It was a critical and commercial failure.
Plot
Abbie (Madonna) and Robert (Rupert Everett) are very good friends, many years ago. The couple would be ideal if it weren't for the fact that Robert is gay. But a night of drinks they have sex and she becomes pregnant. Abbie and Robert decided to face this new situation by sharing home as a traditional family, but without joining legally. This particular way of being parents is going very well until his son is serving a six-year. When Abbie is then begins to date with a man. For Robert this is an intrusion into their lives. Because nothing will be as before.
Cast
Madonna as Abbie Reynolds
Rupert Everett as Robert Whittaker
Benjamin Bratt as Ben Cooper
Michael Vartan as Kevin Lasater
Josef Sommer as Richard Whittaker
Lynn Redgrave as Helen Whittaker
Malcolm Stumpf as Sam
Neil Patrick Harris as David
Illeana Douglas as Elizabeth Ryder
Mark Valley as Cardiologist
Suzanne Krull as Annabel
Stacy Edwards as Finn
William Mesnik as Ashley
Community content is available under
CC-BY-SA
unless otherwise noted.